• concept moon studios • constant hustle comics • kickstarter • Nightfall • wingless comics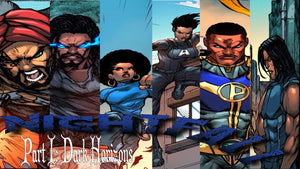 Oh! Hello! I did not see you there. You just caught me after doing some light reading of Nightfall Part I. Who am I you ask? My name is Jon, the owner of Encased Comics and like many others I am an avid comic book reader and collector. What's Nightfall? That is a great question and one I am happy to answer. Nightfall is a 5-part comic book crossover series between Constant Hustle Comics, Concept Moon Studios, and Wingless Comics. These three indie comic creators came up with an idea to bring their characters together to create one epic storyline...
---
  As a startup business, one of the important aspects is keeping up with inventory. The way I do this is by reaching out to other sellers or dealers and making connections to purchase a new product. From there this new product is shipped to CGC or CBCS to help keep up with my business model. Recently, I have spent time buying from other sellers on Instagram (IG) which has yielded some great results along with virtually meeting some great people. I was talking with a friend of mine, showing some of the comics I have purchased and they asked...
---
OMG! OMG! OMG! I found it finally at such a good price! I must have it!   I am sure that most of us had that feeling before when we find that piece of comic history grail we have been on the hunt for. Truthfully, I am still on the hunt for my own grail, Flash #139 first appearance of the Reverse Flash, but that is a story for another day. If you have not had this feeling yet, just imagine you are on eBay searching for your comic book grail, for example, New Mutants # 98, 1st appearance of...